Window Blinds Installed

We are proud to offer a range of different internal blind solutions. From the traditional Roller Blind to the ultra-modern and creative Vision Blinds, we have the blind for you. Built using cutting-edge componentry, our blinds are finished off with an amazing selection of the latest fabrics.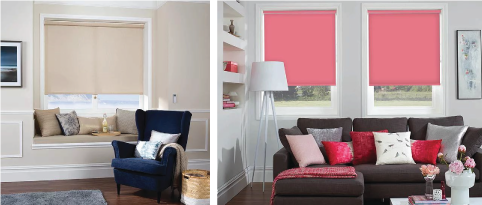 Roller Blinds
Roller blinds are simple and functional in operation, but stylish and modern in design and fabric. With a number of Fabric Collections to choose from, the Roller Blind can provide solutions for every room in a property.
Choice of bottom rails, control mechanisms, closed cassettes and linked blinds all add to the Roller Blind's functionality.
Roller Blind features include:
the ability to be housed in a cassette tidying away the mechanics
can be set up as either a standard forward rolled or reverse rolled blind
easy maintenance with many fabrics washable
the option to have a side channel with the Roller Blind for 100% complete blockout – ideal for Home Theatres, Media Rooms, Conference Rooms, Offices and Schools
accentuating height and space producing an aesthetically pleasing window furnishing.

Venetian Blinds
Our 'WoodNature' Timber-look Venetian Blinds are another great choice for controlling light and privacy.
They are available in a 50mm or 63mm width slats, with widths up to 2.4m, in a range of fresh and modern colours and finishes.
WoodNature Blinds provide you the look of real wood, with the quality and durability of advanced technology that is resistant to discolouration and warping.
The natural earthy properties of 'WoodNature' Timber Venetians give any room a feeling of warmth and natural beauty.

Vertical Drapes
Our vertical drapes and tracking systems are made in our factory to suit our customers' requirements. Allowing complete light control they are most popular for sliding doors and windows. They are sophisticated yet casual, light and breathable.
We offer an 89mm and 127mm width blade and a child safe wand that controls sideways movement and tilt.
There is a huge range of fabric on offer from translucent to blockout or textured styles, all reflecting the essence of Australian living.

Panel Glides
Panel glides are a visually arresting contemporary blind that will transform any room into sophisticated luxury.
There is a huge selection of fabrics, colours, weaves and textures available.
The panels can either open from the centre or the side and are an extremely easy to use, wand operated sliding blind. There are optional design elements on offer to create a more classical composition.
The versatile Panel Glide can also be used as a room divider or as a stunning, timeless window shade.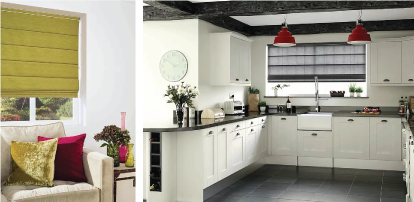 Roman Blinds
Roman blinds are an ideal way to provide continuity when lowered, yet can be different enough to create a subtle, pleasing contrast when raised to allow uninterrupted views. They are the perfect complement to the Panel Glide Blind ideal for any size window.
Our large Roman blind fabric and colour selection allows you to create a chic back drop to any room. With chain operated control systems and wooden batten or back extrusion options providing a tasteful interplay between textures.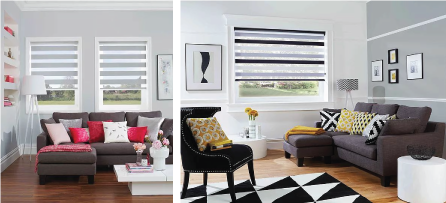 Vision Blinds
Vision Blinds combine the elegant light diffusion of sheer fabric with the stylish practicality of a roller blind. The contemporary bold horizontal stripes move effortlessly from transparency to dim out.
Vision Blinds can be adjusted sensitively to provide immediate privacy or transparency; or they can be fully retracted to provide a clear view of the outside.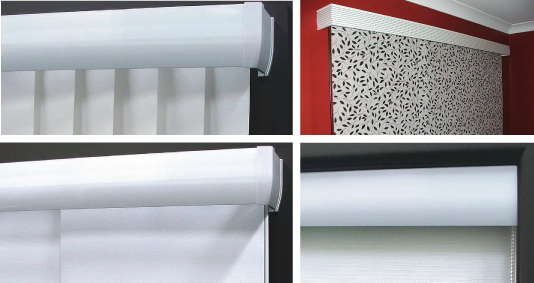 Pelmet
Pelmets and Valances allow you to complete your Blinds with a finishing touch. They come in a number of colour and bracket choices providing that extra bit of style to the Blind.
Pelmets totally enclose the top of the window furnishing, preventing heat loss and providing energy savings.
Valances hide the hardware of the blind giving a crisp and sleek look, ideal for any property.
Fashade Pelmet System Facts:
97mm curved profile
Available in: Black / Brushed Aluminium / White / White Birch
Colour coordinated end caps and return corners
Brackets – Extension brackets available in Black / Grey / White / White Birch
Linea Valance Facts:
PVC Harbour Bridge profile
2 x Heights available – 100 or 140mm
Available in Black / Cedar (Timber look) / White / Cotta (Cream)